A monthly ONLINE ceremony circle, where we will practice creating ceremony together as a collective – sharing the stories of your lineage & using your magick to connect with YOU!
We do spiritual ceremonies as human beings in order to create a safe resting place for our most complicated feelings of joy or trauma, so that we don't have to haul those feelings around with us forever, weighing us down.
-Elizabeth Gilbert  
ABOUT CEREMONY COLLECTIVE
With all the happenings in our busy lives and world, it's no surprise anxiety levels continue to increase. We meditate, medicate, exercise, eat the "right" things, but yet, we continue to feel stress.  Life will always have stressors – so how can we adapt and grow in spite of them? 
Practicing ceremony!
Ok before you stop reading – hear me out. I'm not speaking of diving into studying the deep levels mysticism or shamanism – instead, I'm speaking of bringing the practices of our ancestors into our modern world by experiencing it on a personal level, in a simple way. 
Through ceremony, we can bridge the gap between our stress and our peace, between our lack and our abundance, and between our fear and allowing love. 
Other benefits of ceremony include:
Helping ease anxiety and stress
Supporting and strengthening intuition
Giving us a sense of creation – especially in times of uncertainty

 

Boosting confidence and emotional stability, as presented in Scientific studies

Providing a structure to deliberately funnel worry, stress, and anxiety into focusing on the intention of what you are creating – building momentum and bridging the gap to our

 

goals
Not only marking time, but also creating it
Come join me in a monthly ONLINE ceremony circle where we will practice creating ceremony together as a collective. Tapping into your personal power, divine nature, and intuition to deliberately direct your life experiences. Each monthly ceremony will have a different focus and will be recorded if you are unable to attend live. 
Bring back the sacred in your everyday life and witness your own magick! 
Hope you will join me in this sacred initiative!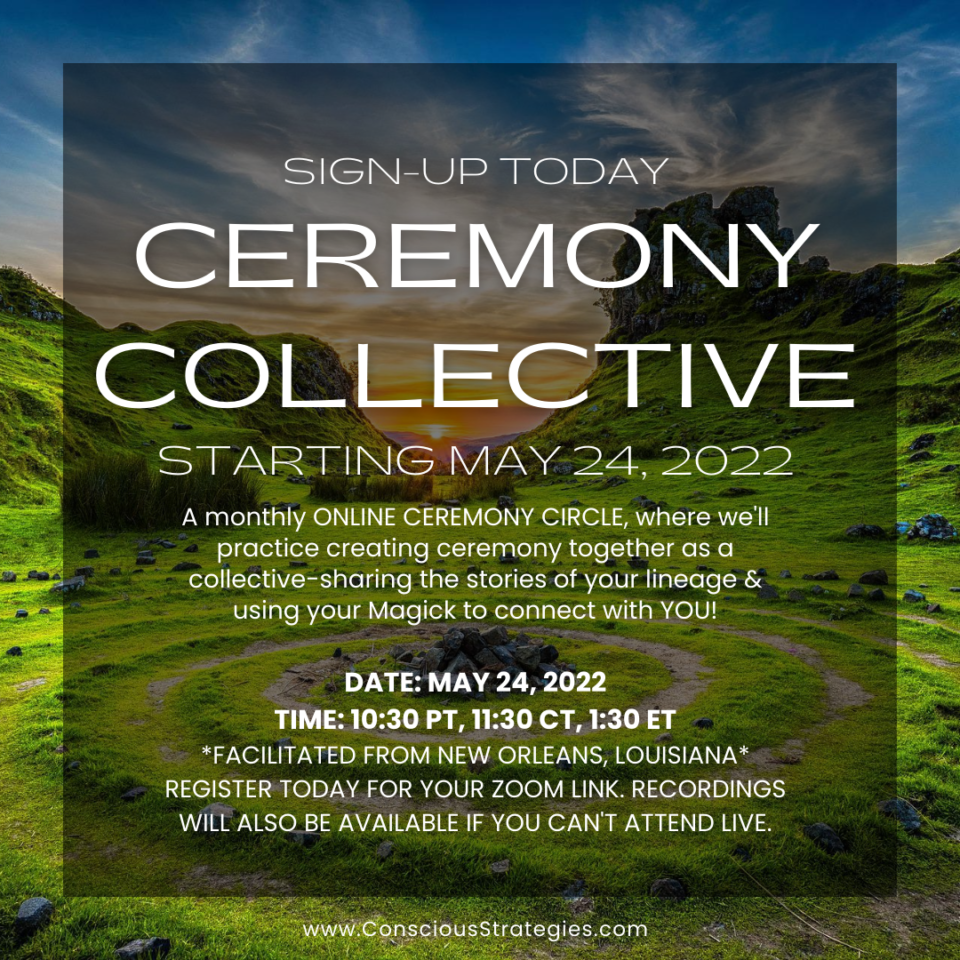 Date: May 24, 2022
Time: 10:30 PT, 11:30 CT, 1:30 ET
*Facilitated from New Orleans, Louisiana.
Register BELOW for Zoom link to attend live.
ONLY $33 a Month for a 6-Month Subscription.
33% OFF if you Pay in Advance – $133 for 6 Months.
"Ceremony brings the sacred into ordinary life."
-Sandra Ingerman